"There are many air purifiers on the market - why Luftklar?"
Here you will find an overview of what you should definitely consider when buying an air purifier.

The most common complain about air purifiers in daily use is the noise level. Our Luftklar air purifiers were developed with noise optimisation in mind right from the beginning and have been further optimised in cooperation with our fan manufacturer and research institutes. As one of the only manufacturers, we fulfil the high requirements for a low sound pressure level at simultaneously high volume flows, such as those required for classrooms. Implied sound pressure requirements for air cleaners are defined for example by the VDI 2081, VDI 2569 and ASR A3.7 with ≤ 35 dB(A). The new edition 2021 (FILS-R-N) of the Bavarian funding guideline defines a maximum sound pressure level of 40 dB(A) at an air exchange rate of 5-6 times per hour.
≤ 35 dB(A) our Luftklar air purifiers meet up to a volume flow of 1000 m³/h, ≤ 40 dB(A) even up to 1200 m³/h.

The operating costs are essentially driven by the energy efficiency of the air purifiers.
At Luftklar, we only use state-of-the-art fans with GreenTech EC technology.
In conjunction with our large filter surfaces, we achieve very low consumption values of only approx. 95 W at 1000 m³/h.
In comparison, UV-C devices often consume 4 - 8 times this power due to the high radiation power required.
But even competitor devices with HEPA filters often cause more than double the electricity costs and associated emissions during operation.

The maintenance costs for air purifiers are an important purchase criteria. In general, the larger the active filter surface area, the longer the filter service life and thus the filter change intervals.
Luftklar HEPA H14 HT high-performance filters have an active filter area of 28 m². Most of our competitors use filters with only about 14 m² filter surface in this performance class, which results in a faster decrease of the volume flow and more frequent filter change intervals.
The thermal filter decontamination available at Luftklar increases the expected service life of the HEPA filters from 24 to 36 months. In addition, the filters can be changed safely after decontamination - even by personnel who have not been specially trained - and disposed of in the residual waste.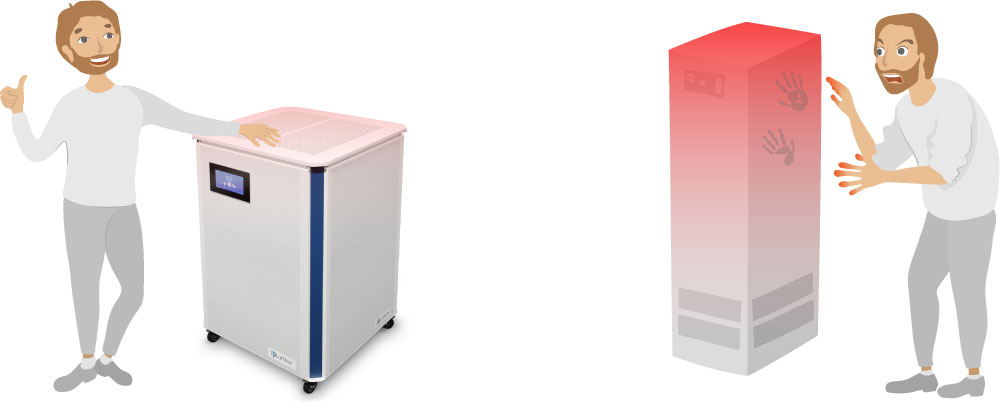 Thanks to an intelligent design and a decontamination process monitored by 3 sensors, the HEPA filter is continuously heated up to 90°C and biofilms and viruses are reliably destroyed. The housing can be touched at all times without any risk of burning.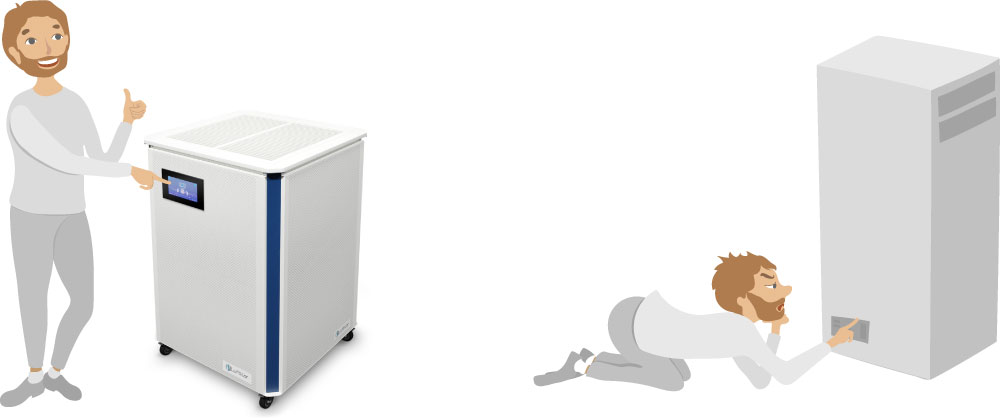 Do you set a high value on ergonomics and intuitive operation? Our 7'' touch display is as easy to operate as a smartphone app.
Our devices can also be integrated into your existing network via WLAN.
This enables central monitoring of the system parameters, such as filter saturation, and corresponding notification of the service technician.

Just like Prof. Dr. Joachim Curtius of the Göthe University in Frankfurt/Main, we also expect a paradigm shift.
"For decades, we have expected water from the tap to be free of pathogens..."
"In future, we will also expect the air we breathe indoors to be free of viruses, other pathogens, fine dust and allergens. This is where air filters will play an important role."

Our Luftklar air purifiers work with highest quality HEPA filters and preceding ISO ePM1 55 % (F7) pre-filters. Only this way can fine dust and allergens be removed from the air in addition to viruses and pathogens. Other air purification technologies such as UV-C irradiation or ionisation and plasma technology usually cannot do this, or can only do so in combination with high-quality filters.

The aerodynamic performance of our air purifiers was thoroughly tested and confirmed during development. When evaluating the units, pay attention to the following points:
Were the specified air volumes actually measured with filters in place and after the outflow openings.
Too narrow inlet and outlet openings greatly reduce the actual air volume and lead to high flow velocities and flow noise.
Too large outlet openings lead to too low an outflow velocity and too little room air circulation.
Will the air ideally be distributed in the room in the form of a throw parabola? According to our investigations, a vertical or horizontal outflow leads to short-circuit flows between the supply and extract air sides. This results in insufficient mixing and cleaning of the room air.
Air blown out horizontally at a low height is perceived as a very unpleasant draught.

For flexible use, air purifiers should be mobile and yet very stable. The unit's own weight, a low centre of gravity and good castors with locking brakes play an important role here. Very light or very high units are not very stable or even have to be bolted to the building.

Our Luftklar products are extremely robustly built - as is required for equipment in public spaces in order to withstand the high loads caused by external influences. We benefit here from our developers' many years of experience in science centre and exhibition construction. Light plastic housings or thin-walled sheet metal cladding will not withstand the stresses and strains in kindergartens, schools or similar places.

Luftklar products impress with a great and high-quality design. On request, we can match the colours and surfaces exactly to your existing interior.